[SOLVED] Qt Creator not showing errors properly in "Build Issues" Pane
Hello everyone,
I'm using QT Creator 2.2.1 + QT 4.7.3 in my Xubuntu Linux 10.11, with everything in its defaults.
The problem is: the build errors aren't being showed properly in the build issues pane. I need to keep going to Compile Output Pane to see the error.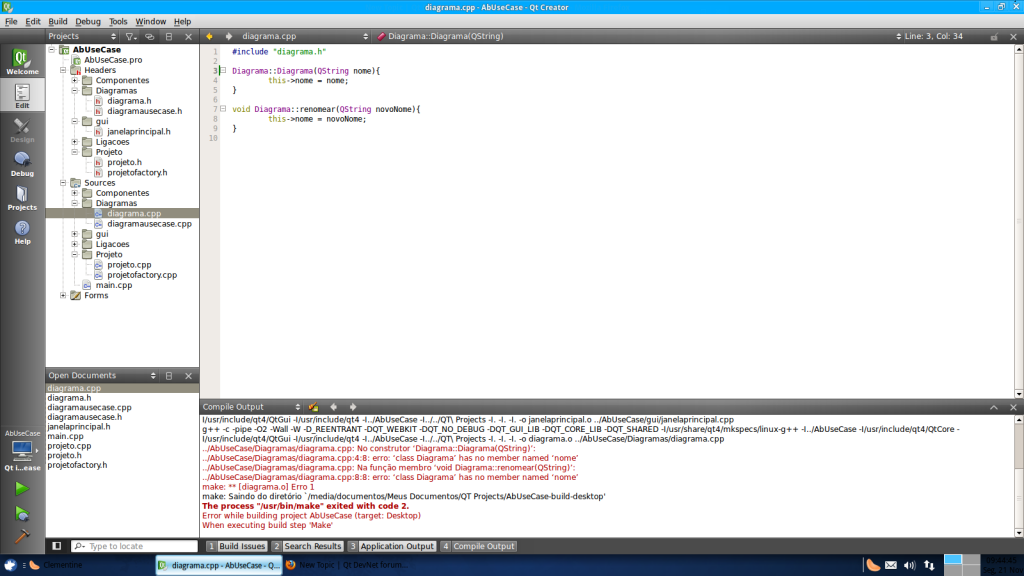 I installed QT SDK + QT Creator using
apt

-

get install build

-

essential qtcreator
Can you guys help me out?
5 replies
LANG

to en_EN.UTF-8
I have the same problem on Kubuntu 11.10. and found the solution: Project->Build Settings->Build Environment-> Set
Thanks , Krong! It worked, but I needed to LC_MESSAGES instead of LANG. Changing LANG didn't worked.
So, for anyone that's getting the same problem:
Go to Project->Build Settings->Build Environment
and set LC_MESSAGES to en_EN.UTF-8.
The last question is: There's any way to set this as default? I tried setting the environment variable with

export LC_MESSAGE

=

en_EN.

UTF

-

8
But looks like it didn't work.
‹‹
How to create copy of Ui and class or import existing one.
QtCreator and code folding, is it bug?
››
You must log in to post a reply. Not a member yet? Register here!